Visitors ID Cards Maker for Mac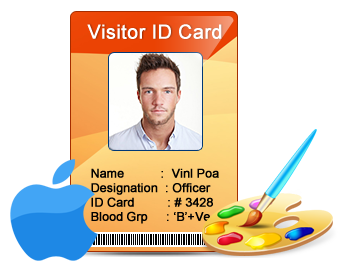 Price: $49
Visitors ID Cards Maker for Mac design visitor ID Card and Gate Pass for visitors. Software helps mac users to maintain visitor's record and save them to the database. You can also export your visitor record in Excel and search particular visitor's record from the database.
➯ Software is having E-mail setting option to send designed visitor ID Card at specified email address.
➯ You can Export your designed ID Card and Gate Pass As Image (in JPEG, PNG and other File formats), As PDF.

Software Features:
Mac users can easily print created designed visitor ID Card using advanced printing settings.
Software provides option to copy current design of the card to the other side of your card.
Create and print single side (Front) and two sides (Front and Back) of visitor id cards.
Software is having various pre-defined templates (pre-loaded Visitors ID Card Design) for quickly designing Gate Pass for visitors.
You can easily export (save) all visitors records in excel file format.
Add photo on visitor ID card by capturing image using camera or by browsing path of visitor image.
You can crop image according to your ID card using Image Cropping tool available in software on your Mac.
Software provides feature to export (save) designed id card as template, as PDF file format and as image (in JPEG, PNG and other File formats).
Save designed visitor ID cards in different file formats including JPEG, BMP, TIFF, GIF, PNG, and PDF.
Design ID card using image designing tools such as Line, Ellipse, Pencil, Rectangle, Text, Picture, Arc, Barcode, Triangle and Star objects.
Specify the color and background settings of created ID card using Color, Gradient, Image and Style settings.