Home
➜ ID Card Maker Software
ID Card Maker Software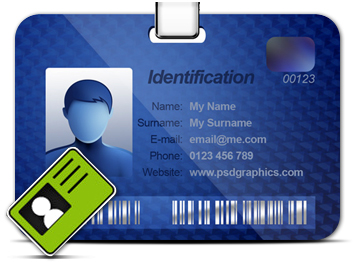 Professional ID card maker software provides simple solution to design and create ID cards in different shape and size. Card creator application facilitates to design variety of ID cards mainly including Employee ID card, Student ID card and other similar type of photo ID cards with use of advance image designing objects. Design ID card software creates identification cards with option to print created card as per user needs.
➯ Design and create ID card in various shapes including Rectangle, Rounded Rectangle, Ellipse shape.
➯ Select image from library during ID card designing process.

ID Card Designing Software Features:
Design ID card with use of variety of image designing objects including Line, Ellipse, Rectangle, Text, Barcode, Picture, Triangle and Star objects.
Create single sided (Front) or two sided (Front and Back) ID cards.
Import excel file data to generate multiple identity cards.
Provide color settings of ID card including Solid Color, Gradient, Image and Style settings.
Data Set Series feature allows to generate the multiple copies of ID cards with different barcode and text value.
Software provides advance features to print created ID cards using advance print settings.
Start new ID card format or edit existing ID card format.
Create ID card using wizard or with blank format.
Option to include barcode technology while designing process.